Ruth Bavetta
Apr 16, 2014
I'm delighted! Four of my visual poems will be included in Six Arrow Press's book, Splitting the Genre: The Intersection of Poetry & Visual Art. I'm sure it's going to be a handsome and interesting publication. You can see some examples of my visual poems right here http://ruthbavetta.com/visualpoetry.php
---
Mar 30, 2014
Here's a photo of me and Michael Miller, of Moon Tide Press, at the launch for my book, Embers on the Stairs. Michael's been great to work with.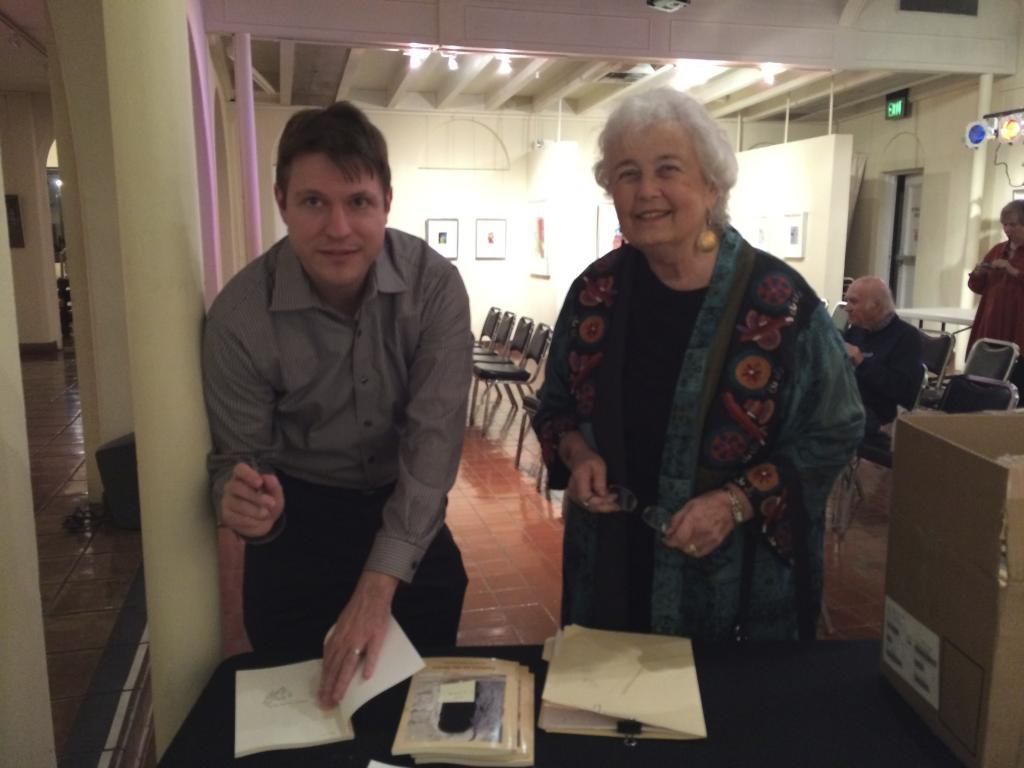 ---
Mar 22, 2014
Back in 2012, Pirene's Fountain published their Beverage Anthology. They're featuring it again on their website. It's got a lot of good poems. I'm sure you'd enjoy it. Name a beverage, and someone has written about it. It includes a poem I wrote in a fit of nostalgia, The Bartender's Guide to Summer Drinks.
http://pirenesfountain.com/archives/issue_12/poetry/bavetta.html
---
Mar 16, 2014
A big thank you to all of you who turned out Thursday night to launch my book, Embers on the Stairs. The Muckenthaler Center is a lovely place--an old Southern California Spanish style mansion converted into an art center. We gathered for the reading in an interior tiled patio-like room.
I had a great time. Hope you did, too. For those of you who couldn't make it because you had a dinner date with the President, here's a sample poem.
Ode to Sardines
The northern sea,
immaculate and immense
drops anchor
on my kitchen counter.
Moonlight reassembled
as layers of watered silk
head to tail
in a bright tin coffin.
Click here to buy the book: http://ruthbavetta.com/poetry.php
---
Mar 13, 2014
My official book launch is tonight at the Muckenthaler Center in Fullerton, CA. So what if you're on the east coast, this is IMPORTANT! POETRY WITH MOON TIDE PRESS Thursday, March 13, 7:30 p.m. Free Moon Tide Press celebrates the launch of its 21st book, Embers on the Stairs, by Orange County poet Ruth Bavetta. Since 2006, Moon Tide Press has published some of the finest poets in Southern California and beyond and invites you to share in the debut of its latest collection. An open reading is provided for those who bring a poem of their own. 1201 W Malvern Ave, Fullerton, CA 92833 (714) 738-6595
---